Cool Summer Getaways in Maharashtra
Summer!!! Is it too sunny and hot to go out? Is it quite humid and dehydrating to go out? No good place to visit in the vicinity apart from the waterparks? You would be surprised seeing some of the magnificent places, seeming as if we are in abroad. Escape into the country's most magnificent tourist attractions, it is the perfect time for discovering different places and spending your holidays in Maharashtra which offer a great respite.
There are various humungous places to explore; Maharashtra is surrounded by historic forts & museums, panoramic beauty, various festivals & languages and mythology. Spend your time with family or friends at economic rates. Here is a perfect guide from soft-sand beaches to lush green mountains and multi-ethnic cities, to beat the heat of this summer and for exploring fun, adventure and wonders that is going to sweep you off your feet. Take the break you deserve, open your arms with a new outlook to refresh your minds.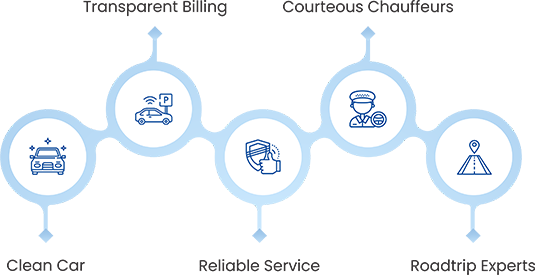 Lonavala & Khandala: Trekkers paradise; Lonavala & Khnadala are one of the best cooler places to visit in summer in Maharashtra. Enjoy the sightseeing, camping, rock climbing or trekking at Tiger's Leap, Lonavala Lake, Rajmachi Wildlife Sanctuary, Koregad Fort, Amrutanjan Point, Bhaja Caves, Duke's Nose, Lohagad Fort, Bedse Caves, Kune Waterfalls, Bushi Dam, etc. who love spending some quiet time away from the commotion of the city.
Mahableshwar: Situated in the Sahyadri Mountain ranges, a getaway for families and new wedded couples, one of the best and most visited hill station in Maharashtra during summers. Places to explore Rajpuri Caves, Mahabaleshwar Temple, Morarji Castle, Venna Lake, Pratapgad, Mapro Garden, Tapola, Lingamala Falls, Lodwick Point, Elephant's Head Point, mesmerizing sunrise at Wilson Point, boating from Tapola to Bamnoli Island and enjoy various activities like rock climbing, mountain biking, horse riding, trekking & more
Alibaug: Peaceful retreat beach with romantic ambiance and tempting konkani food situated near the Arabian sea. Places to expose Alibaug beach, Nagaon beach, Akshi beach, Kolaba Fort, Kanakeshwar Devastan Temple and more. After long playful soak in the beach, a filling vegetarian, sea food and sol (soul) khadi savours the day
Matheran: Smallest but biggest adventures attraction hill station in India. It is located in the Raigad district of Maharashtra. Matheran is of forested routes that are rich in wildlife, Echo Point, One Tree Hill Point, Charlotte Lake, Alexander Point, Prabal Fort, the Garbett Plateau, waterfall, nature walking and local shopping. Close by and can enjoy the trekking with your friends.
Panchgani: Last but not least, Panchgani Surrounded by 5 Sahyadri mountain ranges, hence the name, also known as the table land. It is a breath-taking serene beauty along with unpolluted environment. So people who are tired of the smoke and vehicles can discover the pristine beauty. Places to explore Table Land, Mapro Farms, Bhilar Waterfalls, Sydney Point, Lingmala Falls, Elephant's Head Point, Kate's Point, Dhom Dam and many more. Activities sightseeing, hiking, trekking, cycling, Horse riding, sky diving, bungee jumping, shopping for handicrafts, famous for paragliding, etc. It is gifted with some marvellous beauty besides the proud contributor of 80% Strawberries to India.
A visit to this magnificent state should be on the rim of every traveller's tourist list. These destinations are close by, famous and easy to access
Do share your experience if you do visit these places and tell us your story and encourage readers to explore the marvellous destinations.
Blog Added On : 17-Apr-2021